[an error occurred while processing this directive]
JABS (Just another bondage site) ???
Well - at the first look you may think so. But there is a difference between these pages and most of the others on the 'net. I don't do any scans by myself, because it is not my goal to provide anybody with "10 NEW PICTURES EVERY NIGHT". So what's going on here? While I made my experiences surfin' the web I found something wonderful behind the scenes, something I wasn't aware off... Sometimes behind all the ropes and chains there is love! Of course, THEY like to be dominant or submissive. Many of them even like the pain - which is a thing I really can't understand. Sometimes, following the links to the very secret places where people speak about there dreams and desires I found stories and pictures telling about the fun they had beeing bound, even about the freedom(!) they found. And I was deeply impressed.
FANTASY
I discovered the idea of beeing immobilized when I was a young ... and sometimes (not very often) I did something like "self bondage". Maybe this sounds curious, but I'm fascinated by the fantasy of beeing a beautiful girl (or woman), helplessly bound. And all that for my own pleasure and the pleasure of another woman, which likes it to apply the ropes and chains and to see me (gently) struggle against them. We dressed together in nice clothes, maybe some sexy lingery for me, maybe some elegant skirt for her. A little makeup, earrings, ..., suitable pumps, ... (let YOUR fantasy complete this list!).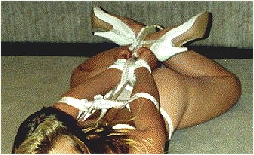 Then she starts to caress me, my face, my body, my arms - and with tacit understanding she moves my arms behind my body and firmly applies the ropes. Then she does the same to my beautiful legs (did I mentioned, that I wear nice stockings?) After laying face down she completes her work with tieing my hands and feet together (I found out, that this is called a "hogtie"). I found a picture which gives a good example of this kind of bondage. (I don't remember the source, so please - if it's yours, let me know) "Oh darling, you look so cute" she says, "I'm sure you enjoy it!". I'm not answering her, but trying to move towards her - knowing that her eyes follow me. If she's in the mood for it she helps me with coming a little closer - if not she stays where she is waiting for me. Reaching her she bends down and caress me, her hands let my body shiver. "You are now my little slave girl, Gina" she says with a lovely smile "as long as I like it!".
Well, this for sure is the beginning for a wonderful story. At this time I don't know exactly how the story is going on.
Maybe we celebrate a wonderful evening (maybe she allows me to kiss her feet and in the evening when we have dinner together she feeds me and let me eat from her hands)...

Maybe the doorbell rings and looking at her clock she says: "Oh no - I forgot I invited my girlfriend ... for tea. Wait here, I ..." and she's stepping out of the room. Arriving at the door she looks back and smiles "Oh darling - where were my thoughts - 'wait here' " and she giggles "that's funny!". Sensing my fear she returns halfway "Don't worry darling - she won't notice it. Just try to relax in your ropes, I'll try to make it short"...

Maybe ... YOU have a nice idea? Yes?! Email it to me - maybe we can write a good story together.
Wow - a year before I for sure could not imagine, that I could write and think in this way. And now I am strong enough to publish this fantasy... Looking over the lines again I ask myself the question "Who are you REALLY, Gina?".
THE BEGINNING
At this time I remember when I was really sexual aroused for the first time by the idea of bondage. Somewhere (was it on the 'net, did a friend gave me the hint - I don't remember) I found informations about "communities" in the internet, and the first community I looked at was GeoCities. As luck would have it, I came to the home of a crossdresser, who was also interested in bondage. He had published some pictures and then asked two questions:
"Would you like to look like this?"

"Would you like to help ME to look like this?"
Should I say more? I have a vivid imagination, a very vivid imagination and soon I was trapped by this idea. The curious thing is, that I would like both positions in this role playing game - I'm sure.
So I guess I must ask my question again: "Who am I really?".
PICTURES
Well, of course I'll point you to some pictures I like. Remember, this is not a source for brand new pictures. I you are looking for that stuff, take a look at my "links"-page (coming soon).
I hope you enjoy your stay here at "my place".
THE END
OK. That's the end for today, below you'll find the first little pictures I selected for you (I hope others will follow soon). Please feel free to look at the other pages of my website as I have more fantasies to share with you. As you can imagine, I can't sit on the computer all day long and put text and graphics together to make new webpages. So be patient with me and come back from time to time to see how "Gina's place" is growing. I'm always keen on getting your response about how I'm doing. Do you like the website? Maybe you have a good link for me to include in the coming "link list" or anything else to improve this site? Don't be shy - write an email to me.
Hugs, Gina
---
R A C H E L
You won't believe this, but this woman ist bound! Her arms are crossed, the ellbows tied with a rope, the hands securely bound to her knees. Even her legs are crossed and bound together at the feet. She sits on the carpet of the living room absolutely unable to stand up and - of course - she is unable to free herself from the ropes. Even if there was a knife laying in front of her it would be almost very hard or impossible to get free. What do you think if you look into her face and see this lovely smile? She is happy, isn't she? Oh Rachel, I wish I were you in this exciting arrangement...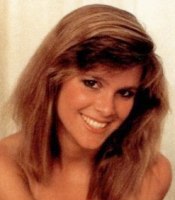 http://dom.handcuff.com/ponygirl/
Since the content of the "dom.handcuff.com"-websites changes frequently I decided to make the full picture available from my pages. Just click here or on the image to see it. (12-Aug-98)
---
C A T H R Y N
Do you know, what "mummification" is? Egypt, the pharaoh, mummies - yes, you're on the right path. I discovered the idea of beeing mummified by myself (as a fantasy) and was VERY astonished, when I found out, that this is a common variant of bondage techniques! And as you can see by the pictures below - Cathryn is enjoying it... Isn't it fascinating? Two, maybe three layers of plastics are enough to make it impossible to escape. It is even hard or impossible for you to move - maybe some very small steps with the help of you partner in this erotic game - but no more! At the other side: he/she (your partner, your mistress, ...) can clearly see all of your body through the very thin cover. But he/she can't touch you directly - this is something like beeing a present for him/her. After you've played a while he/she will for sure unwrap this lovely present (you hope so...;-).
Kisses, Gina